Ballet for Martha: Making Appalachian Spring
Blog Reviews and Online Articles
A FUSE 8 PRODUCTION REVIEW (SLJ/BETSY BIRD) (link)

READING IS FUNDAMENTAL (RASCO FROM RIF) (link)
BOOKLIST ONLINE, Story behind the Story: Jan Greenberg and Sandra Jordan's Ballet for Martha, by Ilene Cooper
EXCERPT: Performance art is almost always a collaboration. Certainly that was true in the creation of the ballet Appalachian Spring, as the picture book Ballet for Martha clearly shows. But books are also collaborations. So how do two authors, one illustrator, and an editor come together to make a book when each may have an individual vision?
NOTES FROM THE HORNBOOK, August 2010 Five Questions for Jan Greenberg & Sandra Jordan (Interview)
PW BOOK NEWS
"Sometimes art is made by one artist, working alone, but sometimes it is the result of artists working together—collaborating—to forge something new." That's the opening passage of Ballet for Martha: Making Appalachian Spring by Jan Greenberg and Sandra Jordan, illustrated by Brian Floca, which Roaring Brook/Flash Point/Neal Porter published this past August. But the line also applies to the creation of the book itself, a picture book that PW called an "inspired book about collaboration," as well as to the unique events that it has spawned.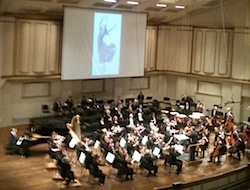 The St. Louis Symphony performed 'Appalachian Spring' along with projected images from 'Ballet for Martha.'
Ballet for Martha tells the story of how Martha Graham, Aaron Copland, and Isumu Noguchi worked together to create the ballet Appalachian Spring, which debuted in 1944 and went on to become an American favorite. In a rare move, the two authors, the illustrator, and the book's editor, Neal Porter, met in person numerous times while they were working on the book. Most of the time, a picture book's author and illustrator barely interact, but as Floca, whose recent work includes Moonshot: The Flight of Apollo 11, said, "What was unusual with this book was that we did get together... It was Neal's sense that we should work together and that we'd all get along. We met at Neal's apartment and sat around and talked about the book and what we knew and what we'd learned, and questions we had. It was a very generous, interested set of conversations. We were all really interested in this material and how to frame it and convey it to a younger audience. It created a very supportive context for the whole conversation."
Jordan said she and Greenberg have worked together for so long (on Christo and Jeanne-Claude: Through the Gates and Beyond, Chuck Close Up Close, and several other books about art and artists) that they "sort of finish each other's sentences about a lot of things." But whereas in most cases "you just turn your text over and the artist takes it," Porter consulted with Jordan and Greenberg about the illustrator for Ballet. They were happy to work with Floca. "You don't get an artist like Brian working on your book and then expect to hold his pencil. There were things he did that pleased us enormously," Jordan said.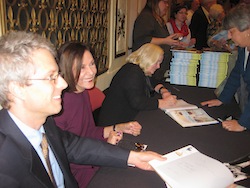 Floca, Greenberg, and Jordan signed copies of the book at intermission.
Ballet for Martha has received widespread praise, with starred reviews from PW, Booklist, Horn Book, Kirkus, and School Library Journal, and a review is forthcoming from the New York Times Book Review. And given that the book brings together music, art, and dance, and that it discusses a work considered to be an American classic, it's perhaps not surprising that it appeals to many different constituencies of readers.
One of those is David Robertson, music director of the St. Louis Symphony. When Ballet was still in its infancy, Greenberg happened to sit next to Robertson on a flight. They struck up a conversation, and Robertson suggested that when the book came out, the symphony could perform the score of Appalachian Spring while images from the book were projected onstage. "When I saw the images," Robertson said, "I realized they were perfect for projection behind the orchestra. Rather than making a commentary, we could let the images speak for themselves, because they are extraordinarily powerful."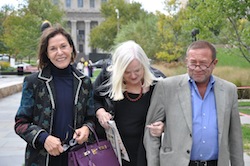 Greenberg, Jordan, and their editor, Neal Porter, in St. Louis.
The Ballet for Martha concerts took place October 1 and 3, and during intermission, the authors signed books. And on October 2, the St. Louis Public Library Foundation hosted a private reception for the authors followed by a public panel discussion with all three authors and Porter, then a Q&A and book signing. "To hear the opening strains of Appalachian Spring and see Brian's striking portrait of Copland, with the score behind him, was electrifying," said Porter. "I thought the symphony did a masterful job of matching images to appropriate points in the music. I confess I got a bit weepy."
More performances of Appalachian Spring will follow in November. Porter said the concert may be performed at the Aspen Music Festival next summer, and he is hoping other orchestras around the country pick up on the idea of combining the Appalachian Spring score with images from the book and narration—as the collaborative element of Ballet for Martha continues to grow.
Journal Reviews
KIRKUS


Appalachian Spring, the modern dance that celebrates the wedding of a Pioneer Woman and her Husbandman, is a brilliantly conceived and enduring paean to American frontier life. It premiered in 1944 with choreography by the innovative Martha Graham, music by Aaron Copeland, a child of Eastern European immigrants, and sets by Isamu Noguchi, the Japanese-American sculptor who voluntarily went into a World War II internment camp. ... Through the use of active sentences in the present tense and brief quotes, the authors convey the excitement and drama of the creative process and the triumph of the ballet. Floca ... here uses watercolor and pen-and-ink in a glorious depiction of modern dance movement, with its quiet hand gestures, dramatic leg kicks and the swirl of dancers "fluttering, skittering, reaching up to the sky." A stunning achievement. Archival photographs embellish the biographical notes at the end--a lovely touch.
PUBLISHERS WEEKLY


Greenberg and Jordan (Action Jackson; Christo and Jeanne-Claude) continue to carve out their art-focused niche with this inspired book about collaboration. The now classic 1944 ballet, Appalachian Spring, serves as a fine model, showcasing three great artists: dancer Martha Graham, composer Aaron Copland, and set designer Isamu Noguchi. Readers see the fascinating creative process unfold, from Graham's germ of an idea about American settlers to the ballet's opening night. They will also gain insight into each artist: "The movements are not always pretty. Not everyone likes Martha's new way of dancing. Audiences have booed her performances, but Martha never lets that stop her," and "Aaron's music suggests the movement, fires the dancers' imaginations, dares them to do more." In spot art and full-bleed scenes, Floca's ... muted, elegantly composed watercolors capture Noguchi's avant-garde set ("spare and angular, like Martha's way of dancing"), and the posture and movement of the dancers. Capturing the drama of dance, music, and stage design in a two-dimensional format is no easy feat, but this team does it with a noteworthy grace of their own.
BOOKLIST


Dance. Music. Set. All of these elements contribute to the experience of Appalachian Spring, an American classic that continues to thrill audiences. How does an idea go from a jotted note on choreographer Martha Graham's pad to a fierce triumph? In crisp yet patient sentences, the authors begin with a vision: a story to be told in movement and music, an American pioneer tale. Composer Aaron Copland takes his cues from his knowledge of Graham's powerful yet simple dance style. A Shaker hymn leads him to the music, which in turn ignites Graham's choreography. But one more element is needed. Enter artist Isamu Noguchi, whose set design is as spare and strong as the ballet. The collaboration continues as the dance becomes fully formed, opening triumphantly in 1944. In this book, too, disparate elements come together. Matching the mood of Graham's moves, the writing is pared down but full of possibilities. Floca's ink-and-watercolor artwork nimbly shifts from the prosaic (Copland reading Graham's script) to the visionary (a bride and groom on the open prairie) to the several-spread finale of the ballet itself. The book as a whole beautifully captures the process of artistic creation.
HORN BOOK


When choreographer Martha Graham asked composer Aaron Copland to create the music for a new ballet, she knew she wanted their finished piece to be a story, "a legend of American living." Later she asked the sculptor Isamu Noguchi to design the set, and from the collaboration among these three artists the iconic ballet Appalachian Spring was born. Using spare, concise sentences, the authors echo Graham's approach to dance: like the movements in her choreography, nothing is wasted, and in such exactness lies the beauty. Greenberg and Jordan are careful to explain that Graham was an uncommon kind of dancer crafting a different type of ballet: "The movements are not always pretty. Not everyone likes Martha's new way of dancing. Audiences have booed her performances, but Martha never lets that stop her." Floca's fluid, energetic line-and-watercolor illustrations echo the plain boldness of Graham's choreography and make readers feel almost as if they were present at the inaugural performance of Appalachian Spring at the Library of Congress in 1944. Those familiar with Copland's score will hear the variations of the Shaker hymn he wove through his music — "It's a gift to be simple, it's a gift to be free, it's a gift to come down where you want to be" — as they turn each page of the recapping of the ballet. Further information about the artists, a bibliography, and notes round out this remarkable book.
SCHOOL LIBRARY JOURNAL


If Martha Graham's choreography for "Appalachian Spring" was a "valentine" to the world, as critics wrote in 1944, then this book is a love letter in return. Simple, poetic prose tells the story of the creation of one of the world's most-loved ballets and compositions, and Floca's graceful watercolor illustrations take admirers through every part of its development. Written in the present tense, the narrative has a sense of drama that carries readers along as if the events were happening in real time. Fascinating details about the collaboration among Graham, Copland, and Isamu Noguchi (set design) are well documented in the lengthy "curtain call," notes, and resources pages, which read like a fantastic set of liner notes. Floca varies the illustrations from vignettes to bird's-eye views to landscapes and expertly capture the fluid movements of the dancers. The page layouts are well planned to create the most movement and interest. The authors researched extensively but found a way to crystallize all of the information into a gem that is approachable for young readers. More than anything, this work emphasizes the value of collaboration and celebrates the work that Graham, Copland, and Noguchi did to bring together the performing and visual arts. Readers may be inspired to go to Russell Freedman's Martha Graham: A Dancer's Life (Clarion, 1998) and should be encouraged to check out one of Leonard Bernstein's definitive recordings of "Appalachian Spring" and a video of the ballet.
—Cheri Dobbs, Detroit Country Day Middle School, Beverly Hills, MI
SAN FRANCISCO CHRONICLE


Collaboration is a big 21st century buzz word. But it is nothing new, according to Ballet for Martha: Making Appalachian Spring (Roaring Brook; 48 pages; $17.99; ages 9-12). Authors Jan Greenberg and Sandra Jordan and illustrator Brian Floca pool their own efforts to show how dancer-choreographer Martha Graham, composer Aaron Copland and artist/set designer Isamu Noguchi pooled their efforts to premiere a now classic American ballet in 1944 - one about a bride and groom, "a new home, a new family, a new life. (link)
It is not easy to chronicle the creative process or capture newness or represent music and movement on paper. But this splendid behind-the-scenes story succeeds on all counts. Fluid watercolors do justice to the set that "is spare and angular, like Martha's dancing" and to Copland's uplifting score. Intelligent and inspiring, this splendid monograph makes tangible the glory of true collaboration.
—Susan Faust, Special to The Chronicle, July 24, 2010
THE WASHINGTON POST


Ballet for Martha offers a close-up look at the creative process. It's also a rare glimpse into collaboration .. .Greenberg and Jordan clearly value a good partnership, having worked together for many years. Their impressive alliance is further boosted here by Brian Floca's line-and-watercolor illustrations; his expressive portraits and scenes are as appealing as the well-chosen details of the narrative."